Posted on June 7, 2019
Another Strong Employment Report Signals Rebound In Canadian Economy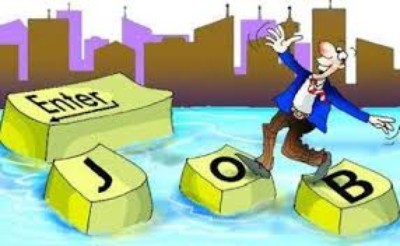 It appears that the Bank of Canada's optimism that the Canadian economy's growth will pick up in the third and fourth quarters of this year is well founded. Not only was the employment report very robust for two consecutive months, but the jobless rate has fallen to its lowest level since at least 1976.
Also, Canada's trade deficit, reported today, hit a six-month low in April, as exports continue to rebound from a recent slump. Consumer spending and business investment are also making a big comeback. Household spending has accelerated, despite concerns over bloated debt loads, assisted by easing rates on loans, substantial jobs gains, stabilizing housing markets and improving financial markets.
The Bank of Canada forecasts that growth will accelerate to an annualized 1.3% in the second quarter–following the meagre 0.4% expansion in Q1–and pick up further in the second half of this year, before accelerating back to above 2% growth by 2020. This comeback begs the question–why were markets expecting a rate cut by the bank in December? That expectation may well change after this morning's Statistics Canada releases. Of course, one caveat remains, which is the uncertainty surrounding a trade war with China and Mexico. If the trade situation were to worsen, Canada's economy would undoubtedly be sideswiped.
Canadian employment rose by 27,700 in May, bring the number of jobs created over the past year to a whopping 453,100. The jobless rate plunged to 5.4%, from 5.7% in April, the lowest in data going back to 1976. Economists had been forecasting employment to rise by only 5,000 last month after Canada recorded a record gain of 106,500 in April. The loonie jumped on the news.
The composition of the job gain was particularly heartening, as the rise was all in full-time employment. On the other hand, jobs by those who are self-employed increased by 61,500–the gig economy is alive and well.
The most substantial job gains were in Ontario and BC.
Wage growth continued to be strong in May as pay gains for permanent workers sere steady at 2.6%.
In direct contrast, the US jobs report, also released today, was weaker than expected. US payrolls and wage gains cooled as Trump's trade war weighed on the economy. US employers added the fewest workers in three months, and wage gains eased, suggesting broader economic weakness and boosting expectations for a Federal Reserve interest-rate cut as President Donald Trump's trade policies weigh on growth.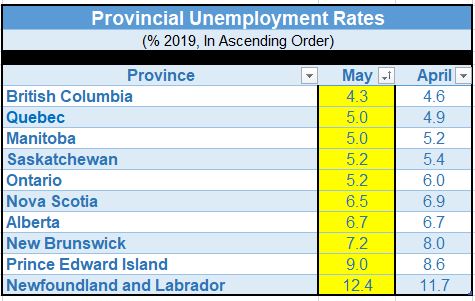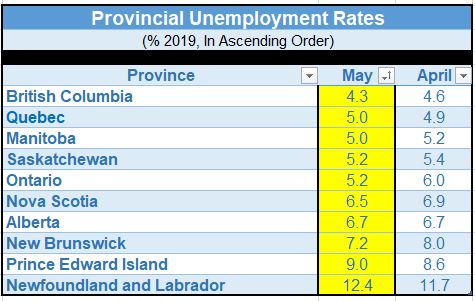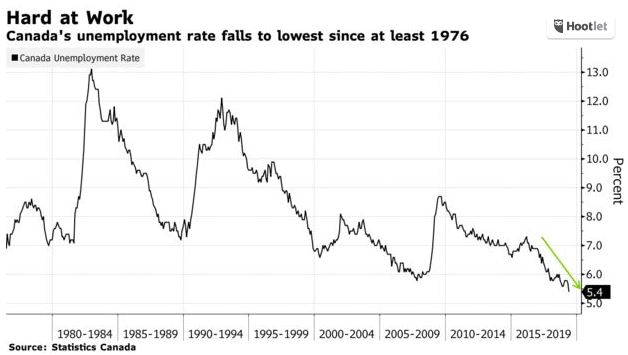 Sign up to Newsletter
Newsletter
Sign up to regular newsletters from Dr Sherry Cooper