Posted on January 31, 2018
Best Canadian GDP Growth in Six Months Led by Manufacturing Comeback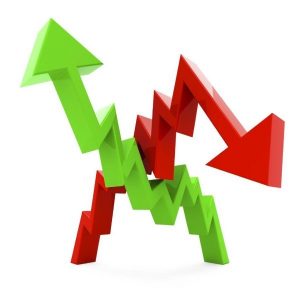 Real Gross Domestic Product (GDP) increased 0.4% in November, bouncing back from a disappointingly flat economy in October. The improvement reflected a rebound in most factory sectors as goods-producing industries rose 0.8% after declining 0.5% in October. November's gain was mainly due to increases in the manufacturing and mining, quarrying and oil and gas extraction sectors. Maintenance shutdowns had depressed these areas in October. The services-producing industries rose 0.3%, led by the real estate and retail trade sectors.
Manufacturing posted its strongest growth in three years, indicative of an economy that continues to grow at an above-potential pace despite NAFTA uncertainties. Durable goods production surged, led by a 6.5% rise in the manufacture of transportation equipment. The auto sector was on fire following a 21.5% decline in the prior four months. Automotive vehicle assembly increased in part due to the return to production of some plant capacity following shutdowns in September and October. This increased activity was also a factor in the 8.7% rise in motor vehicle parts manufacturing in November. Chemical manufacturing bounced back as well.
On the services side, the real estate sector piloted the gain, mainly reflecting vigorous activity in real estate agencies and mortgage brokers. The output of offices of real estate agents and mortgage brokers (+4.0%) was up for the fourth consecutive month owing to increased home resale activity in Ontario and Alberta. However, the level of activity of this subsector remains below its March 2017 level, following provincial government changes to housing regulations in Ontario that came into effect in April of that year. Resales picked up in the fourth quarter in advance of the pending new mortgage qualification rules coming in at the start of 2018.
These data suggest that the Canadian economy will remain close to full-employment output as the Bank of Canada weighs higher interest rates. The fourth quarter growth in Canada was likely just shy of 2%. Growth will likely remain at around that pace in 2018. With inflation still well-behaved, the Bank of Canada's Governor Stephen Poloz has said he will be cautious in assessing new data to determine future moves. The economy is quite sensitive to interest rate hikes because of elevated levels of household debt and the outsized role of housing in recent years.
Canada is headed for 3% growth for 2017, more than double the 2016 pace and expected to be fastest among Group of Seven nations. Other signs Canada's economy is close to full output include the lowest jobless rate in modern records and consumer price inflation that's close to the central bank's 2 percent target.
The Bank is well aware of the risks associated with the NAFTA negotiations, although it appears the U.S. will not pull out of the deal and progress has recently been made at the Montreal meetings. Nevertheless, interest rates are widely expected to rise as monetary policy is gradually tightened.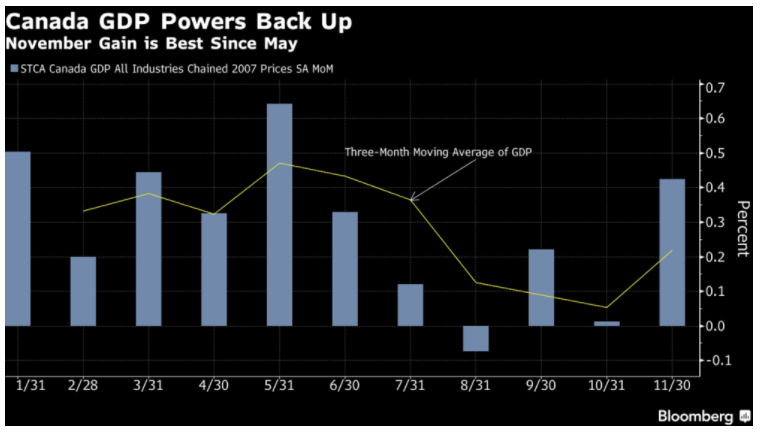 U.S. News: Federal Reserve Decision
Today marks Janet Yellen's last meeting as Fed Chair, with Jerome Powell taking the position when her term ends on Feb. 3. The Fed held rates steady at today's meeting as was widely expected, but the policy statement signaled a rate increase in March, marking the sixth such hike since late 2015.
"The committee expects that economic conditions will evolve in a manner that will warrant further gradual increases in the federal funds rate," the policy-setting Federal Open Market Committee said in a statement Wednesday in Washington, adding the word "further" twice to the previous language of the statement.
Powell takes over an economy that expanded at an annualized 2.6% pace in the fourth quarter, boosted by a rise in business investment and consumer spending. Tax cuts signed into law by Trump in December are also likely to increase growth in 2018, though the Fed and most analysts believe the lift will be temporary. There was no mention of the tax cut in the policy statement.
Sign up to Newsletter
Newsletter
Sign up to regular newsletters from Dr Sherry Cooper