Posted on April 29, 2016
Canada Starts to Outperform the U.S.
Crude oil prices are poised for their biggest monthly gain in seven years, hitting a new high for 2016, and as day follows night, the Canadian dollar is up sharply–just shy of 80 cents U.S. Today's February GDP report was not as weak as expected following the blowout number in January, leaving Canada likely to print 3% growth in the first quarter of this year. This compares to an extremely weak read for first quarter growth in the U.S. of only 0.5% annualized–the weakest pace in two years, after a 1.4% fourth quarter advance. American consumers reined in spending and companies slashed business investment, especially in the energy sector.
Shaky global markets and oil's tumble resulted in the biggest U.S. business-investment slump in almost seven years, and household purchases climbed the least since early 2015. As in Canada, last year's slump in oil prices that extended into mid-February of this year led to an 86% annualized plunge in capital spending on wells and shafts in the U.S., the most in records back to 1958.
While Federal Reserve officials on Wednesday acknowledged the softness, they also indicated strong hiring and income gains have the potential to reignite consumer spending and propel economic growth. Some believe the Fed could raise rates in June after remaining on the sidelines in April, although the weak first quarter showing dims the prospects of such action.
In Canada, the first quarter story appears to be rosier. Canada's GDP declined for the first time in five month in February, but the decline was smaller than expected and followed five consecutive months of expansion. January growth remained at 0.6%, the fastest pace since 2013.
Hedge funds and other large speculators have started betting in the Canadian dollar's favor this month, ending their longest sustained bearish stance since 2001, according to data from the Commodity Futures Trading Commission. The Canadian dollar is the second best performer among G-10 peers this year, up 17% since its mid-January low. Clearly it is oil that is driving the rally in the loonie (see Chart below). Canada has the most oil-dependent currency of all the commodity currencies.
The loonie's strength creates challenges for the Bank of Canada, which held interest rates unchanged on April 13, partly in the hope that fiscal stimulus will be successful, but also with the prospects of a continued rebound in non-energy exports. A stronger currency dampens the export effect.
Canada's returning economic resilience in the first quarter will be driven by improved consumer spending and a slower decline in business investment. Net exports are dampened by the sluggish U.S. economy. Real after-tax income growth improved with this year's middle class tax cut.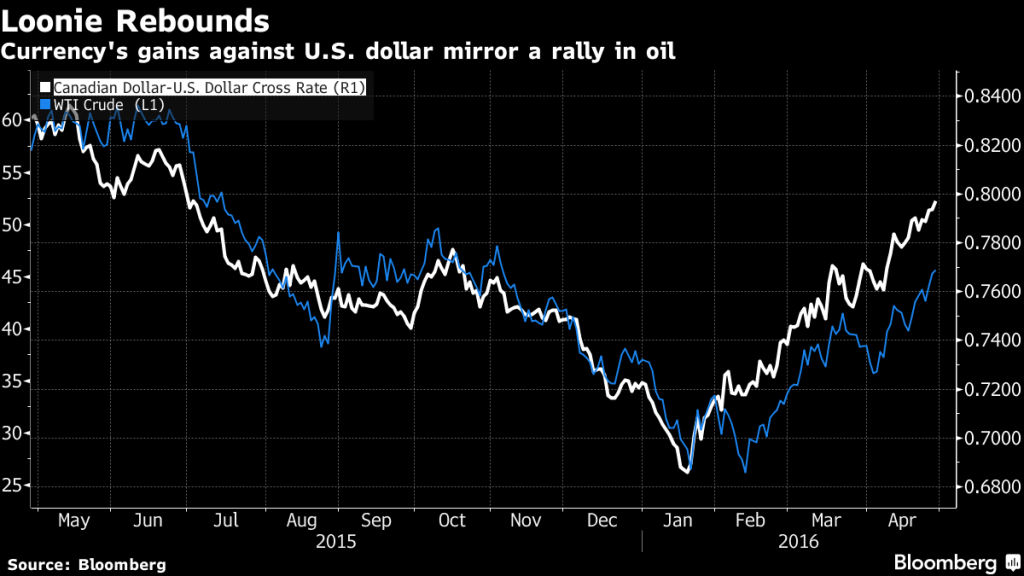 Sign up to Newsletter
Newsletter
Sign up to regular newsletters from Dr Sherry Cooper