Posted on June 8, 2018
Canada's May Job Loss in Manufacturing and Construction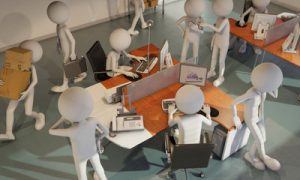 Statistics Canada announced this morning that Canada's employment was little changed in May, and the jobless rate remained at a low 5.8% for the fourth consecutive month. The headlines, however, highlighted the modest 7,500 job losses last month on the heels of a 1,100 job loss in April. The job declines are small in a country that has added 238,200 new positions over the past year.
In the private sector, the job losses were focused in manufacturing and construction. Manufacturing has been weak all year no doubt dampened by the continuing uncertainty surrounding NAFTA. The latest trade battles have postponed any NAFTA decisions until 2019. Not only has the U.S. imposed tariffs on shipments of Canadian steel and aluminum, but Trump is now pushing for separate one-on-one trade negotiations with Canada and Mexico.
This divide-and-conquer strategy will only prolong the uncertainty, and it is not clear that the 24-year old NAFTA deal will endure. Reciprocal tariffs by Canada, Mexico and many other U.S. trade partners will continue to disrupt economic activity worldwide.
Construction employment fell for the second consecutive month, decreasing 13,000 in May. Construction jobs are little changed from a year earlier, with recent declines offsetting gains observed in late 2017. Housing activity has slowed markedly in the past 12 months in response to government and regulatory measures to slow residential activity.
Much of the decline in jobs can be chalked up to B.C., where employment fell by 12,400 in May. Mixed performances were observed elsewhere. But B.C. has exceptionally tight labour markets where the unemployment rate has fallen to 4.8%, the lowest in the country. Job losses there might well reflect an inability to find appropriate workers (see chart below).
The jobs market remains very tight in Canada as an increasing number of employers report job vacancies and difficulty in finding experienced workers in some sectors. Labour shortages and provincial hikes in minimum wages have boosted income. Average hourly wages for permanent workers rose 3.9% from a year earlier, matching a pace last seen in April 2009, and the number of hours worked climbed by 2%. Wage gains hitting a nine-year high was undoubtedly helped by Quebec's minimum wage increase, but the broader story of price pressures remains–12 of 16 major industries saw wage growth above the 3% mark in May, which also marked the twelfth straight month of real wage gains.
Industrial company capacity utilization rose to 86.1% in the first quarter, the highest since 2006, Statistics Canada said in a separate report. It was the seventh consecutive gain.
The Bank of Canada has said it is closely monitoring income growth as it considers whether to raise interest rates again next month. The job market is expected to remain strong this year with unemployment holding close to record lows despite trade uncertainty and weaker housing. Governor Poloz on Thursday said there are signs of "solid" expansion.
The Bank of Canada is expected to hike interest rates when the Governing Council meets again in July, adding to the three rate hikes over the past year.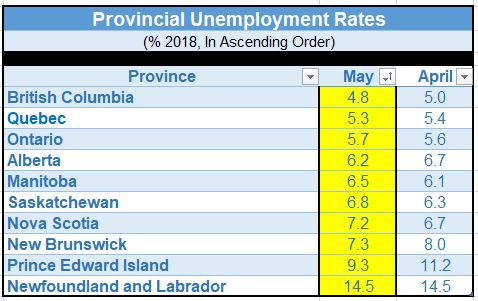 Sign up to Newsletter
Newsletter
Sign up to regular newsletters from Dr Sherry Cooper