Posted on June 15, 2020
Canadian Home Sales and New Listings Recover One-Third of Pandemic Loss in May

Record Gains in Canadian Home
Sales and Listings in May
There was good news today on the housing front. Home sales surged by a record 56.9% in May from April's unprecedented collapse. Data released this morning from the Canadian Real Estate Association (CREA) showed national home sales recovered roughly one-third of the COVID-induced loss between February and April (see chart below). On a year-over-year (y-o-y) basis, sales activity was still down almost 40%, but the jump in sales and an even larger surge in new listings shows pent-up demand remains for housing as buyers wish to take advantage of historically low mortgage rates.
Transactions were up on a month-over-month (m-o-m) basis across the country. Among Canada's largest markets, sales rose by 53% in the Greater Toronto Area (GTA), 92.3% in Montreal, 31.5% in Greater Vancouver, 20.5% in the Fraser Valley, 68.7% in Calgary, 46.5% in Edmonton, 45.6% in Winnipeg, 69.4% in Hamilton-Burlington and 30.5% in Ottawa. Not surprisingly, the cities with the smallest gains posted the smallest declines in prior months.
More importantly, anecdotal data suggest that housing activity has been steadily rising from the middle of April until the first week in June.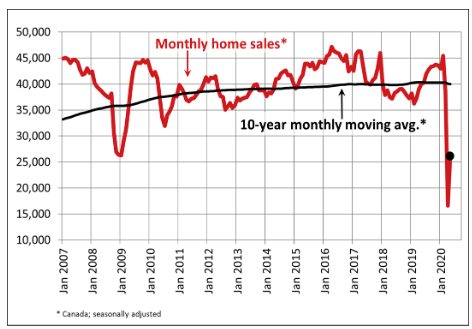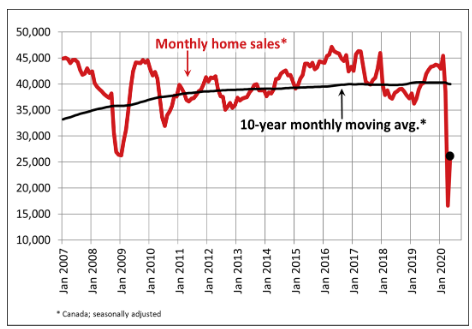 New Listings
The number of newly listed homes shot up by a record 69% in May compared to the prior month with gains recorded across the country.
With new listings having recovered by more than sales in May, the national sales-to-new listings ratio fell to 58.8% compared to 63.3% posted in April. While this statistic has moved lower, the bigger picture is that this measure of market balance has been remarkably stable considering the extent to which current economic and social conditions are impacting both buyers and sellers.
There were 5.6 months of inventory on a national basis at the end of May 2020, down from 9 months in April. The temporary jump in this measure recorded in April reflected the fact that sales were expected to fall right away amid lockdowns; whereas, other variables like active listings would be expected to fall at a much slower pace. The CREA report suggests many sellers who already had homes on the market before mid-March may have left the listings up for now but drastically curtailed the extent to which they were showing their homes during the lockdown. With many of those now coming off the market, overall active listings have fallen by about a quarter as of the end of May, bringing them down among the lowest levels on record for that time of the year.
Home Prices
Home prices were little changed in May compared to April across Canada. Of the 19 markets tracked by the MLS Home Price Index (HPI), 18 recorded either m-o-m increases or smaller decreases than in April. Five markets posted price gains in May following a decline in April (see the table below for local details).
In general, since the pandemic crisis began small declines in prices have been posted in British Columbia while declining trends already in place in Alberta have accelerated. With the recent surge in oil prices, however, sales activity has actually improved across the Prairies and price trends have been stabilizing.
Despite the pandemic, home prices in the Greater Golden Horsehoe area around and including Toronto have fallen very little and remain well above year-ago levels.  In Ottawa, Montreal and Moncton, prices have continued to climb, albeit at a slower pace than before.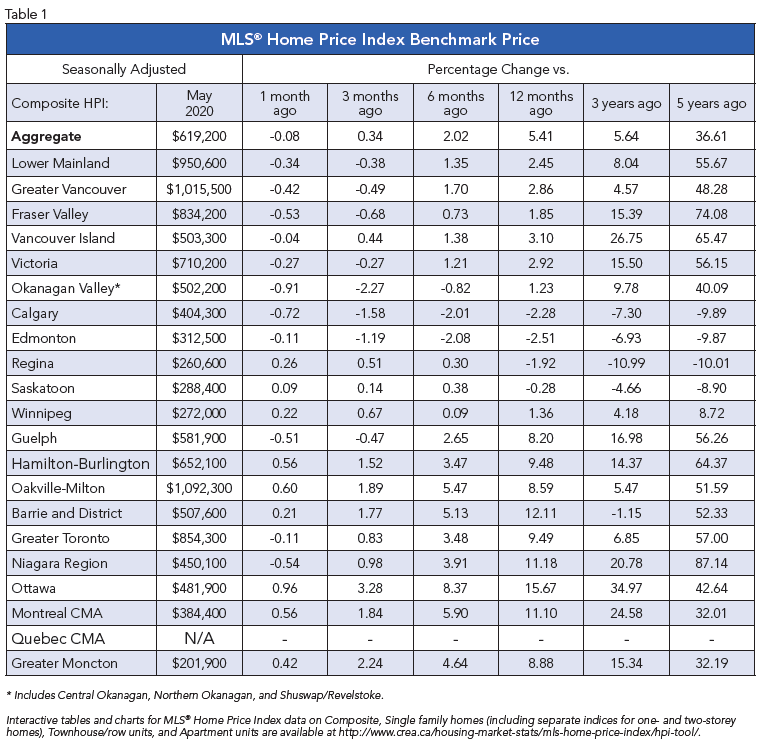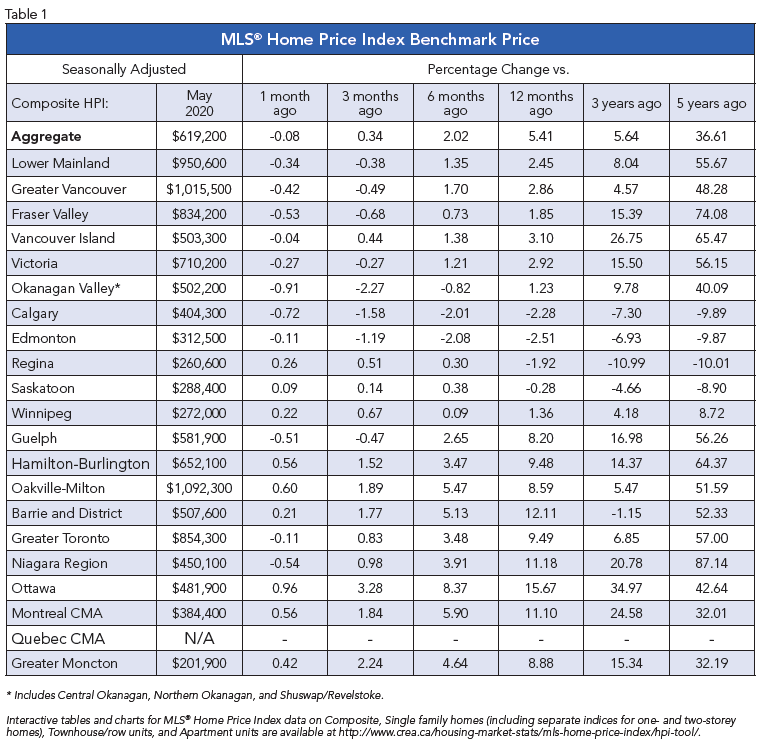 Bottom Line
CMHC has recently forecast that national average sales prices will fall 9%-to-18% in 2020 and not return to yearend-2019 levels until as late as 2022. I continue to believe that this forecast is overly pessimistic. Firstly, average sales prices are highly misleading, especially on a national basis because they vary so much depending on the location of the activity, as well as the types of property sold. 
There is no national housing market. All housing markets are local. A glance at Table 1 above shows a wide variation in regional sales price action, but if anything, trends appear to be converging on moderate positive pressure on prices. Today's economic recession is like no other. The record stimulus introduced by the Bank of Canada and the federal government will assure that the housing markets will continue to function, even with social-distancing measures in place, and those who enjoy steady employment will proceed in due course with regular housing decisions.
Those who permanently lose their jobs are the real concern. Many of those people will be in the hardest hit and slowest-to-recover sectors of our economy, such as hospitality (accommodation and food), non-essential retail trade, and the leisure industry (arts, entertainment and recreation). Statistics Canada census data for 2016 in the table below, shows that the homeownership rate in these sectors is relatively low. Unfortunately, most of those who will be hardest hit by the pandemic can least afford it. This is an issue that fiscal policy must address, investing in retraining programs and universal income guarantees.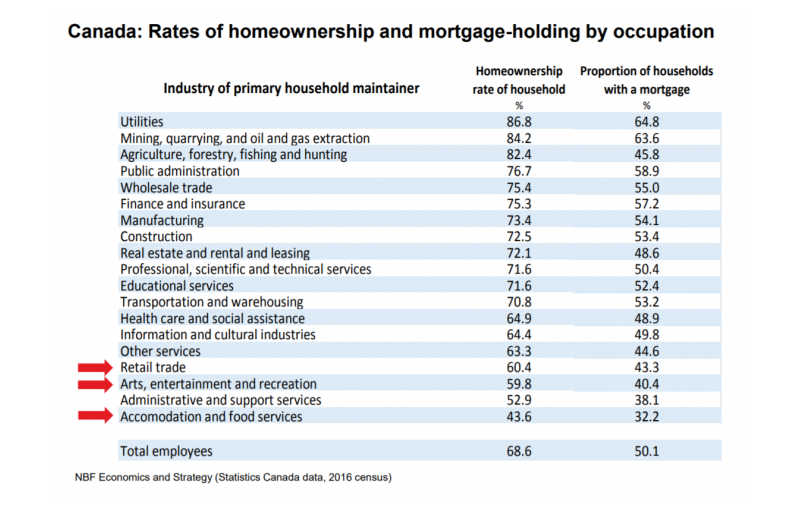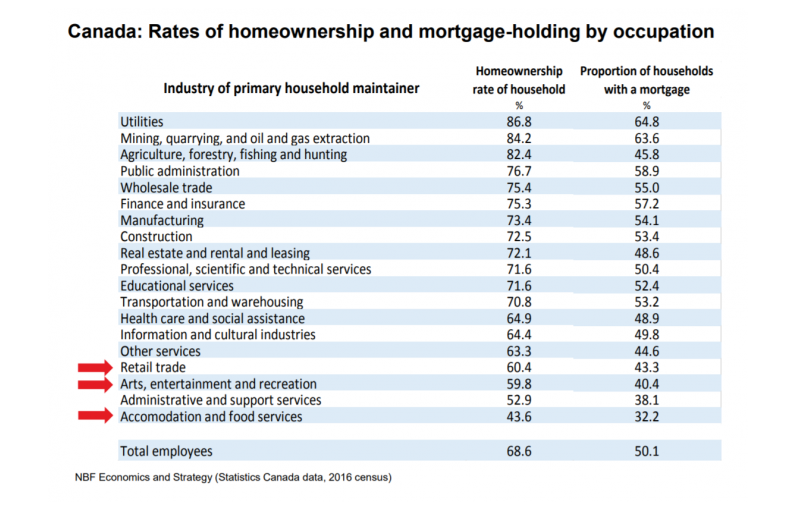 Sign up to Newsletter
Newsletter
Sign up to regular newsletters from Dr Sherry Cooper