Posted on October 18, 2017
Canadian Housing Activity Stabilizes Well Below Peak Levels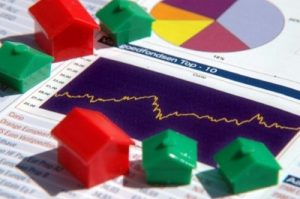 According to the Canadian Real Estate Association (CREA), national home sales in September rose modestly from the previous month but remained below levels recorded one year ago. Resale activity was 12% below the record set in March, before the April announcement of a 15% foreign buyers' tax and a sixteen-point program to enhance housing affordability in the Ontario provincial budget.
The number of homes sold edged up 2.1% last month, building on an even smaller gain in August. Activity was up in about half of all local markets, led by Greater Vancouver and Vancouver Island, the Greater Toronto Area (GTA), London and St. Thomas and Barrie. In and around the Greater Golden Horseshoe region, activity was mixed as some markets posted monthly sales gains while others continued to be near recent lows or fell further.
Actual (not seasonally adjusted) existing home sales were down 11% in September compared to one year ago. Actual sales were down from year-ago levels in close to three-quarters of all local markets, led by the GTA and surrounding housing markets.
New Listings
The number of newly listed homes increased by almost 5% last month following three consecutive monthly declines. The rise in listings was mostly reflective of a jump in new supply in the GTA. With new listings rising by more than sales in September, the national sales-to-new listings ratio eased to 55.7% compared to 57.2% in August. A national sales-to-new listings ratio of between 40% and 60% is consistent with a balanced national housing market, with readings below and above this range indicating buyers' and sellers' markets respectively.
About two-thirds of all local markets were in balanced market territory last month based on a comparison of sales-to-new listings ratio. The number of months of inventory is another measure of housing market tightness. There were five months of inventory on a national basis at the end of last month, unchanged from August and broadly in line with the long-term average for the measure.
At 2.4 months of inventory in the Greater Golden Horseshoe region, this was a sharp increase from the all-time low of 0.8 months reached in February and March. However, it remains below the region's long-term average of 3.1 months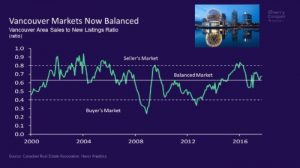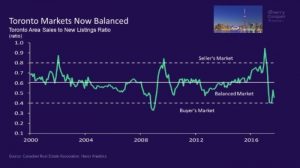 Price Gains Diminish Nationally
Price appreciation continued to moderate year-over-year. The Aggregate Composite MLS Home Price Index (HPI) rose by 10.7% y-o-y in September 2017, representing a further deceleration in y-o-y gains since April. The slowdown in price gains mainly reflects softening price trends in Greater Golden Horseshoe housing markets tracked by the index. Price appreciation was strongest in condos and weakest in ground-level benchmark homes.
Price gains diminished in September among the ground-level benchmark homes tracked by the index and accelerated slightly for apartment units. Condo units again posted the most significant y-o-y gains in September (+19.8%), followed by townhouse/row units (+13.5%), one-storey single family homes (+7.9%), and two-storey single family homes (+7.2%).
The MLS Home Price Index provides the best way of gauging price trends because average price trends are prone to be strongly distorted by changes in the mix of sales activity from one month to the next.
Toronto Area
Resales in Toronto in August and September rose 18%, which only partially retraces the 44% plunge in existing home sales between April and July of this year. New listings surged by almost 19% last month, which was good for buyers. Prices remained under downward pressure for the fourth consecutive month.
Vancouver Area
After slowing earlier this past summer, activity recovered further in the Vancouver area in August and September. The 6.1% gain in September resales was the strongest among Canada's larger markets. This increase exceeded the substantial rise in new listings, which tightened demand-supply conditions, adding more upward pressure to prices. Vancouver's benchmark price accelerated to 10.9% year-over-year in September from 9.4% in August. Given the current market tightness, we expect further acceleration in the months to come.
Calgary
Calgary's housing market is back on the recovery path. Home resales rose for a second consecutive month by 2.8% in September. However, high condo inventories remain a dampening issue, keeping condo prices on a downward trend. Calgary's overall benchmark price continued to rise year-over-year in September, but the 0.6% rate was minimal. There's little scope for stronger appreciation until those inventories decline sharply.
Montreal
Montreal's housing market continues strong with home prices rising further.
Outlook for a Continue Soft Landing
While the economy in Canada peaked in the second quarter and housing has slowed appreciably, we are likely in the early stages of an extended cooling process in Canadian residential real estate. Rising interest rates and the possible introduction of tighter mortgage stress testing for uninsured borrowers will continue to drive down resales this year and next. Overall this year, house price gains of around 10.5%-to-11.0% are likely, down sharply from the 20% year-over-year pace posted in April. For 2018, we expect composite house prices nationwide to rise only 3%, declining about 4.0-to-5.0% in the GTA in 2018.
Sign up to Newsletter
Newsletter
Sign up to regular newsletters from Dr Sherry Cooper