Posted on January 4, 2019
Canadian Jobs Market Remains Tight in December, but Wage Growth Disappoints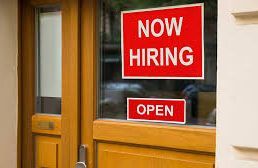 Statistics Canada released its December Labour Force Survey this morning showing modest job gains and an unemployment rate that remains at a record-low 5.6%. The economy generated 9,300 net new jobs in December, a small increase following a record 94,100 jump in the prior month. However, December's rise beat economists' expectations of 5,500 jobs and a jobless rate of 5.7%. All of the tepid increase last month was in part-time and self-employment, a general sign of weakness. Full-time work fell in December for the first time in three months, and wages remained sluggish.
In December, employment rose in Newfoundland and Labrador, while it fell in Alberta, New Brunswick and Prince Edward Island. There was little change in net new jobs in other provinces.
Increases were recorded in manufacturing, transportation and warehousing, as well as in health care and social assistance. There were job losses in wholesale and retail trade, especially in Ontario.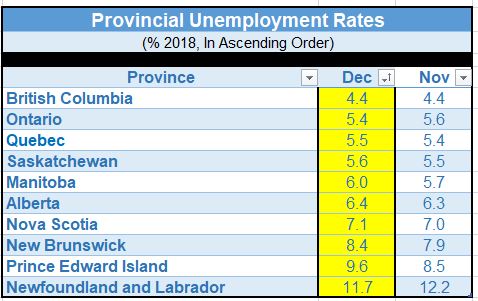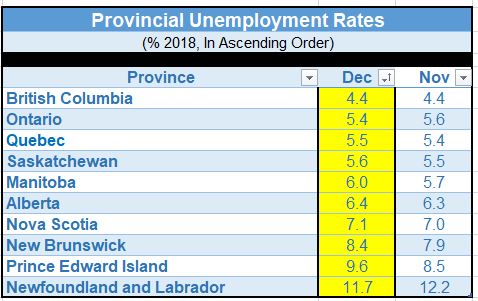 For all of 2018, the economy added 163,300 jobs, all of them full-time, for a 0.9% rise representing a significant slowdown from the pace of job growth in 2017 when the economy was much stronger. In 2017, the economy grew at a 3% rate–the strongest in the G7–compared to only about 2% last year. Employment rose by an out-sized 427,300 in 2017 and has average annualized gains of 225,000 workers since 2010.
With the unemployment rate falling to its lowest level since comparable data collection began in January 1976, it is not surprising that labour shortages are emerging and businesses are having trouble filling job openings. What is surprising is the tepid pace of wage growth. Even with the very tight labour market, December's wage growth reading was a weak 1.49% annual rate, well below the inflation rate (see chart below). Year-over-year average hourly wage growth for permanent workers was only 1.46%, decelerating steadily since its May peak of 3.9%.
In direct contrast, today's release of nonfarm payroll data in the U.S. for December showed a stellar 312,000 job gain, and average hourly pay improved 3.2% from a year ago–well above the inflation rate–and up from average wage growth of 2.7% at the end of 2017.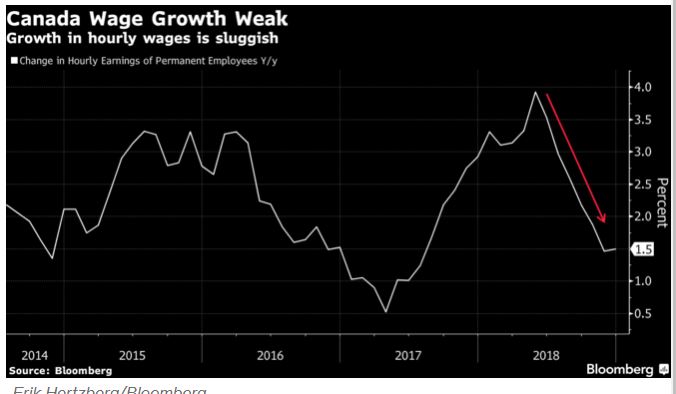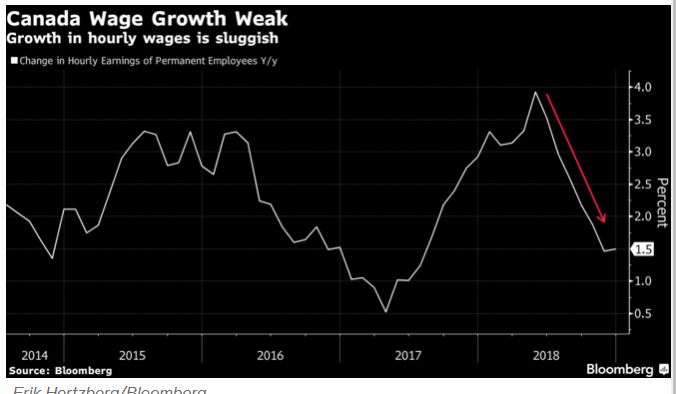 December Housing Reports Show Plummeting Home Sales in 2018 in Toronto and Vancouver
In separate releases, the local real estate boards in Canada's largest housing markets released data this week showing home sales fell to decade lows in 2018 reflecting rising interest rates and stricter mortgage rules.
Sales in the GTA fell 16% in 2018 while the average price declined 4.3%, the Toronto Real Estate Board reported today. That is the worst year for sales in Canada's largest city since the financial crisis in 2008. In Vancouver, full-year sales fell 32%, the lowest since 2000 and 25% below the 10-year average. Prices in Vancouver for detached homes in some areas dropped at least 10%.
Sales in both cities dived in the first half of 2018 after the federal government imposed more stringent qualifying rules for mortgages. Vancouver sales continued to suffer even while Toronto began to recover in the second half, as the British Columbia government introduced more measures to deter speculation. The BC government in its 2018 budget increased the foreign buyers' tax and added a speculation tax, which in addition to rising interest rates dampened sales, especially for more expensive single-family homes.
New listings were down in Toronto last month as homeowners have decided to stay put for now rather than attempting to cash out.
Sign up to Newsletter
Newsletter
Sign up to regular newsletters from Dr Sherry Cooper