Posted on May 15, 2023
Canadian Housing Activity Strengthens Sharply in April
Vital Spring Housing Market Bodes Well For The Economy
The Canadian Real Estate Association says home sales in April surged 11.3% month-over-month. The Spring rebound was on the heels of smaller back-to-back gains in the prior two months. Now that the Bank of Canada paused interest rate hikes and home prices in most regions have softened, homebuyers are scrambling for the minimal available housing supply.

Following the trend in recent months, the sales increase was broad-based but once again dominated by the B.C. Lower Mainland and the Greater Toronto Area (GTA). Toronto home sales, for example, rose by 27% m/m. That's the most significant monthly increase over the past two decades, besides the rebound from the 2020 Covid lockdowns.

The benchmark price of a Toronto home rose 2.4% to C$1.11 million in April on a seasonally adjusted basis. The rise erased declines from earlier this year; prices are now up 0.5% year-to-date in the first four months of 2023.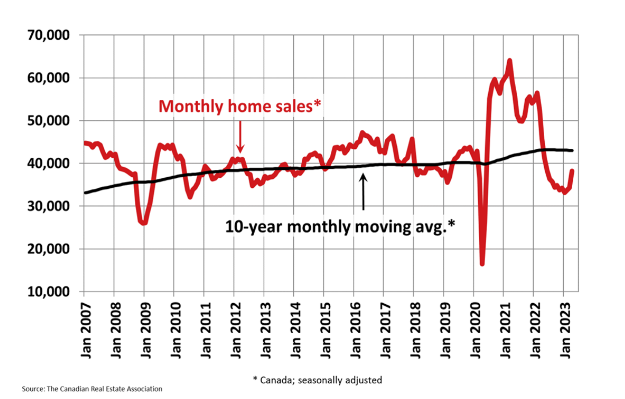 New Listings
Housing inventory is not just low; it is extremely low, although more recent data suggest that new listings rose in the first week of May. The persistent lack of new listings is hurting home affordability.

The number of newly listed homes edged up 1.6% month-over-month in April; however, the bigger picture is that the new supply remains at a 20-year low. The number of new listings hitting the Toronto market trailed far behind the 27% increase in sales at just 2.8%. That helped shrink the supply of houses on the market, which had built up over the past year by 12.3% and left the city's active-listings-to-sales ratio, a measure of how competitive the market is for buyers, tighter than the historical average.

And Toronto's housing market isn't the only one seeing tighter supply and rising prices. Vancouver, long one of the country's most expensive markets, also saw its benchmark price rise 2.4% last month.

With national sales gains vastly outpacing new listings in April, the sales-to-new listings ratio jumped to 70.2%, up from 64.1% in March. The long-term average for this measure is 55.1%.

There were 3.3 months of inventory on a national basis at the end of April 2023, down half a month from 3.8 months at the end of March. The long-term average for this measure is about five months.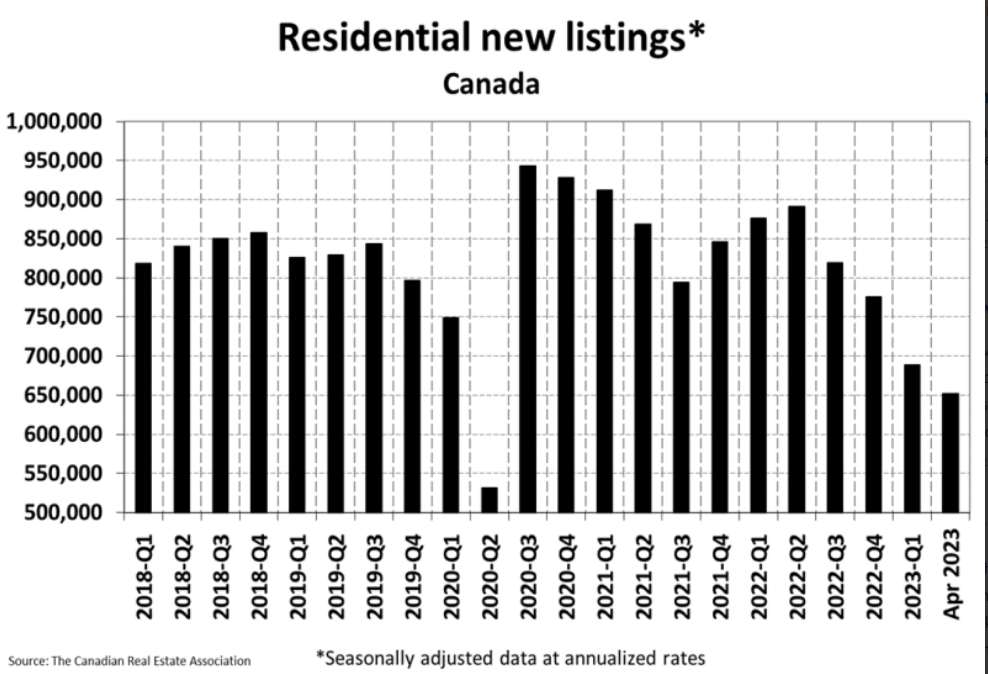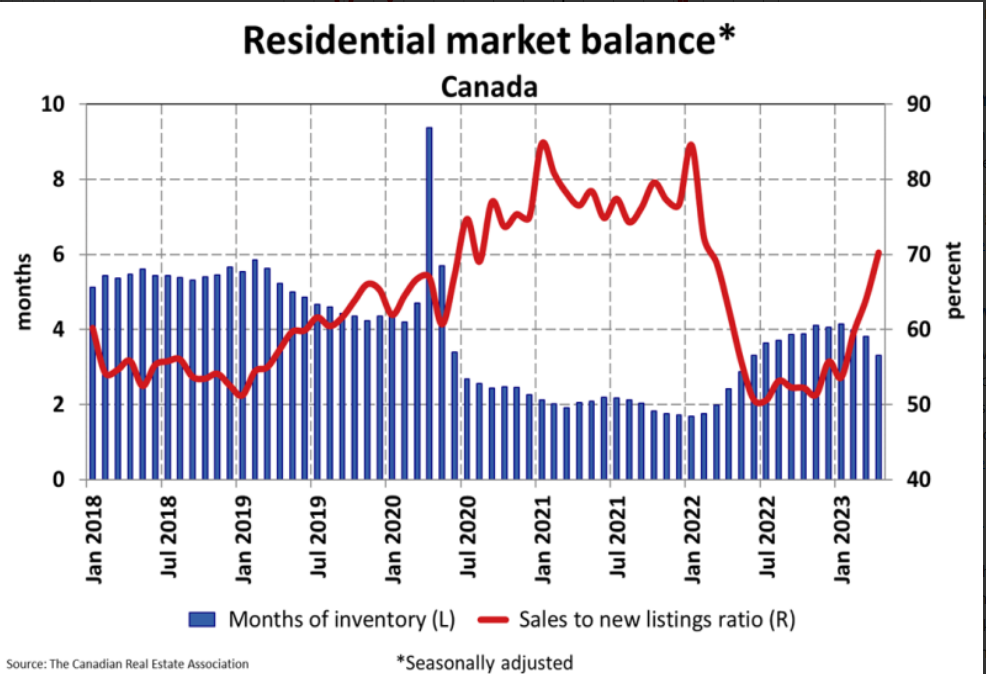 Home Prices

The Aggregate Composite MLS® Home Price Index (HPI) climbed 1.6% month-over-month in April 2023 – a significant increase for a single month. It was also broad-based. A monthly price rise from March to April was observed in most local markets.

The actual (not seasonally adjusted) national average home price was $716,000 in April 2023, down 3.9% from April 2022 but up $103,500 from January 2023, a gain owed to outsized sales rebounds in the GTA and B.C. Lower Mainland.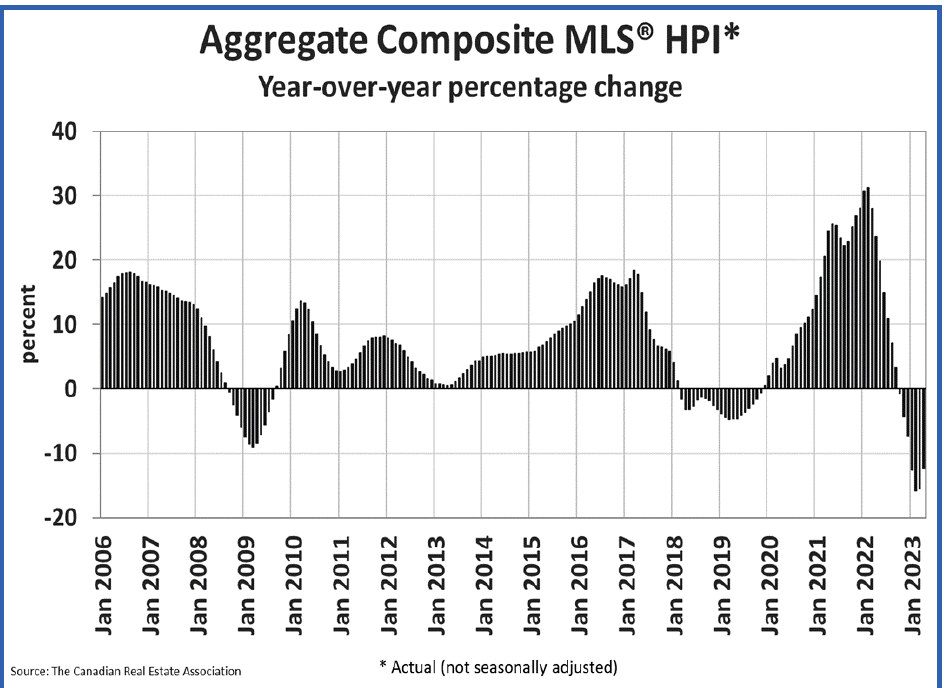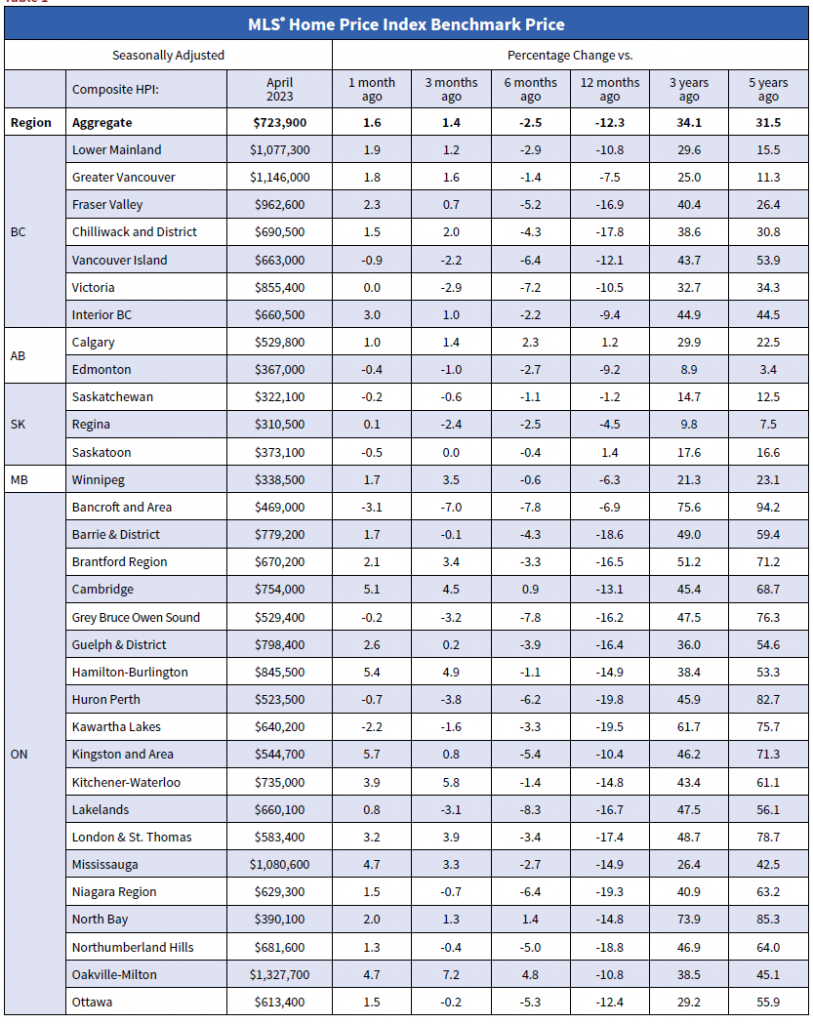 Bottom Line

A turnaround in the Canadian housing market is in train. While inventory remains extremely low, homes are not only selling but also selling fast. Short-term fixed-rate mortgages are popular with buyers. A significant change from before the Bank of Canada started raising rates.

While the Bank will likely hold rates steady for the remainder of this year, I do not expect Macklem to cut rates before then. All of this depends on inflation. We will get another read on inflation tomorrow.

The fact that labour markets are still strong and housing activity is picking up has got to make the Bank of Canada a wee bit nervous about inflation reaching the 2% target next year.

Another noticeable thing is the continued surge in the Canadian population, thanks to immigration, has worsened the housing shortage. The supply of new housing, especially affordable housing, is inadequate for the rapidly growing population. Moreover, a recent report by the C.D. Howe Institute's Benjamin Dachis suggests there are major governmental impediments to providing adequate housing.

The Institute recommends:
Enable the non-political enforcement of municipal housing policies
Reform the fees on new development
ease restrictions on building up and out
Sign up to Newsletter
Newsletter
Sign up to regular newsletters from Dr Sherry Cooper