Posted on September 6, 2019
Canadian Jobs Surge Following a Three-Month Slowdown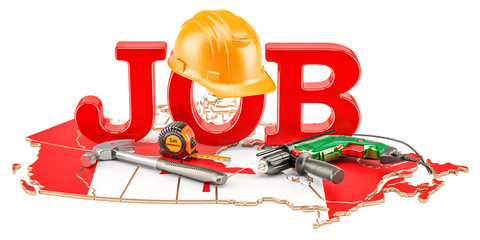 The Bank of Canada's reticence to signal coming rate cuts has been vindicated by the rebounding jobs report released today for August. Following a strong posting for real GDP growth in the second quarter, Canadian job growth surprised on the upside with a gain of 81,100 in August. The August job gains were one of the best months on record in August, a surprising show of strength by a labour market that has relentlessly powered the country's expansion. Over the past year, employment increased 471,000–up 2.5%–the most since 2003. Full-time employment rose +306,000 or +2.5% over the past year, while part-time work increased +165,000 or +4.8%. Over the same period, hours worked rose by 1.2%.
Last month's job gains were mostly in part-time work. The unemployment rate remained at 5.7% as discouraged workers returned to the labour market, helping to mitigate the fear of worker shortages. The bulk of the employment increase last month was in Ontario and Quebec, where the jobless rate fell to 4.7% in Quebec and 5.6% in Ontario (see table below). The Quebec economy and housing markets have been on a roll this year.
The number of private-sector employees increased in August, more than offsetting the decline in July.
There were more people employed in finance, insurance, real estate, rental and leasing; educational services; and in professional, scientific and technical services. In contrast, employment declined in business, building and other support services.
The rebound in the housing market in most provinces since the end of the first quarter boosted the finance, insurance, real estate, rental and leasing sector, bringing the year-over-year (y/y) gain to 3.9%. The increase in August was in Quebec and Ontario. Construction employment increased by 8.4% y/y in Quebec and 4.3% in Ontario. Housing-related jobs in the service sector (finance, insurance, real estate, rental and leasing) posted y/y gains of 5.5% in Ontario and 2.7% in Quebec.
In direct contrast, the BC housing market's slowdown took its toll. Construction jobs fell y/y by -0.3%, although housing-related service sector jobs rose a still-strong 4.5% y/y.
Wage gains slowed but remained strong. Hourly pay was up 3.7% in August from a year earlier. While that's down from 4.5% in July, it's still well above average in recent years. Permanent worker pay slowed to an annual pace of 3.8%.
Bottom Line: Overall, today's jobs numbers will leave the BoC comfortable with the neutral stance it took this week. Markets seem to agree, with the Canadian dollar strengthening further this morning.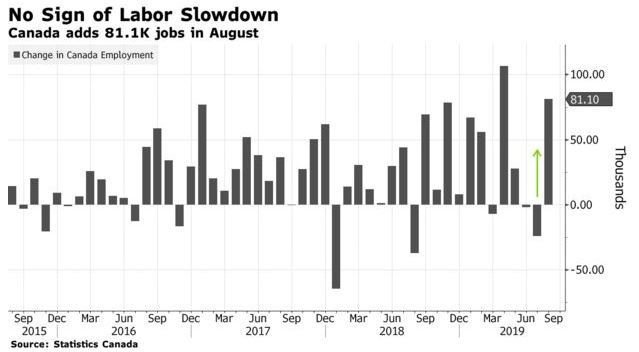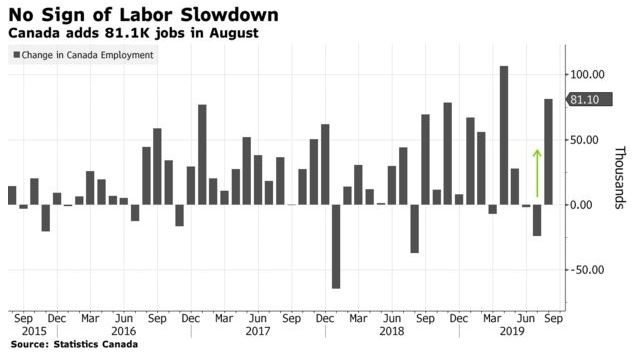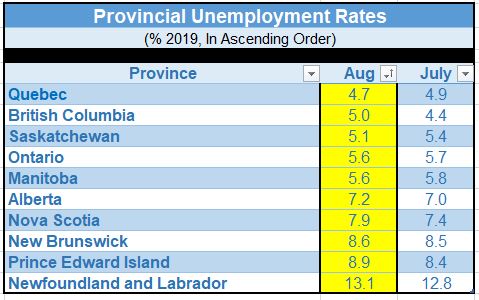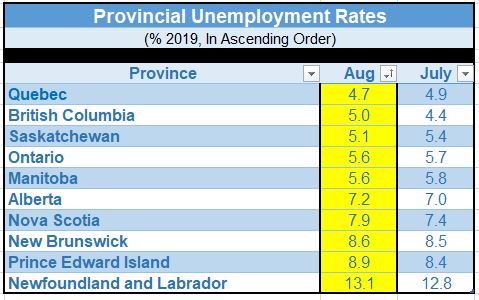 US Jobs Report Disappoints
In contrast, business hiring stumbled in August in the US, likely confirming expectations for a second straight Federal Reserve interest-rate cut when they meet again September 17-18. The jobless rate held steady at 3.7%, and wage growth ticked lower but held above 3%.
Although the unemployment rate held steady at multi-decade lows, the headline employment gain of 130,000 was disappointing. Private payrolls rose 96,000, a three-month low, after a downwardly revised 131,000 advance the prior month, according to a Labor Department report Friday that trailed the median estimate of economists for a 150,000 gain. Total nonfarm payrolls climbed a below-forecast 130,000, which was boosted by 25,000 temporary government workers to prepare for the 2020 Census count.
Fears abound that economic growth in the US is slowing under the weight of escalating international trade tensions and the slowdown in the global economy. Calls may grow for the Fed to cut interest rates this month by a half-point instead of a quarter-point.
The US manufacturing sector is showing clear signs of struggling, and the White House continues to pressure the Fed about the need for even more aggressive interest rate cuts. As well, the payroll figures showed weakness in several sectors. Manufacturing added an anemic 3,000 jobs, and retailers cut positions for a seventh straight month and education and health services hired the fewest people since February.
Sign up to Newsletter
Newsletter
Sign up to regular newsletters from Dr Sherry Cooper