Posted on September 30, 2015
Good News For Harper And The Canadian Economy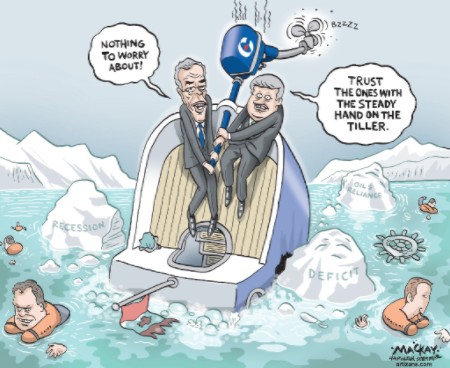 Real gross domestic product (GDP) for July was posted at an better-than-expected 0.3 percent, confirming that the economy rebounded in the third quarter from the contraction in the first half of the year. Although oil prices remain depressed and commodity prices in general have fallen, the economy has been bolstered by the fall in the Canadian dollar and its resulting boost to manufacturing and exports. Moreover, the Bank of Canada rate cuts in January and July have also contributed to strong housing activity and rising consumer spending on autos and other durable good.
Even the hard hit mining, quarrying, and oil and gas extraction sectors expanded in June and July following seven consecutive monthly contractions. Some of this improvement was simply a rebound from maintenance shutdowns and wildfire-related production problems in April and May, as support activities for mining and oil and gas extraction continued to decline.
Manufacturing is growing again, particularly durable goods manufacturing. Transportation equipment has been a notable winner in recent months. The finance and insurance sectors also posted gains.
The Bank of Canada's most recent forecast assumed a return to positive growth in the third quarter led by strengthening exports. Incoming data confirm this view, which is likely to preclude the Bank from cutting rates further this year. Last July, the Bank forecast a 1.5 percent gain in third quarter GDP. Given the strength in recent data, I expect growth in the 2.0-to-2.5 percent range, and possibly better.
In the meantime, Federal Reserve officials have taken to the airwaves in recent days to confirm they expect to begin to raise interest rates in 2015. Markets were actually disappointed by the Fed's inaction at their September meeting on concern regarding market volatility and a slowdown in China. The key policymakers have been quick to suggest that a rate hike is coming soon. There are only two meetings left this year–in October and December.
This morning, an important indicator of U.S. private sector job creation in September, the ADP report, posted a 200,000 gain, a positive portent for Fed action. The closely watched nonfarm payroll report for September will be released this Friday.
Clearly, the divergence in monetary policy between Canada and the U.S. bodes poorly for the Canadian dollar.
The TSX and the loonie jumped immediately following the GDP report. The third quarter, which ends today, has been very tough on investors as stock markets around the world have posted significant losses.
Sign up to Newsletter
Newsletter
Sign up to regular newsletters from Dr Sherry Cooper