Posted on November 6, 2015
Job Strength Means Fed Hikes Rates–Canadian Rates Have Bottomed
The jobs numbers released today for October exceeded expectations in both the U.S. and Canada. This was a particularly important report for the U.S., because it all but insures that the Federal Reserve will hike rates for the first time in a decade when they next meet on December 16. Interest rates in both Canada and the U.S. had already risen in anticipation and the U.S. dollar has strengthened, taking the loonie down sharply this morning to 75.4 cents.
Payrolls in the U.S. climbed the most this year as the unemployment rate remained essentially unchanged at 5.0%–the lowest level since April 2008– providing the signs of labor market durability that the Fed is looking for. The 271,000 October jobs gain followed two months of weaker-than-expected employment. The improvement in October was led by the biggest gain in retail payrolls since November 2014, the strongest hiring in construction in eight months and a pickup at temporary-help agencies. Manufacturing showed no improvement.
Critically, wage growth strengthened–a key factor in the Fed's decision making. Worker pay increased 2.5% over the year ended in October, the most in more than six years.
While the labor force participation rate remained at only 62.4%, the broadest measure of U.S. unemployment, which includes discouraged workers and those involuntarily working less than full-time, fell to 9.8%, its lowest level in since May 2008. Treasuries slid on the news, taking the U.S. ten-year yield up 10 basis points to 2.33% immediately following the release.The U.S. dollar surpassed this year's highs.
Canadian Employment
Canadian employment also exceeded expectation in October, rising 44,000. The unemployment fell 0.1% to 7.0%. Unfortunately, much of the out-sized gain–32,000 of it–was in temporary workers hired in preparation for the federal election. Even so, employment growth was somewhat higher than expected.
Canadian hiring growth this year has been surprisingly strong given the marked job cuts in the oil and mining sectors. The natural resource category fell in October by 8,000, bringing the total losses in the industry to -26,000 (-6.9%) over the past 12 months. Most of the declines were in Alberta. According to Bloomberg News, job cuts from energy and commodity producers over the last month have come from Husky Energy Inc., Athabasca Oil Corp., Cenovus Energy Inc., Meg Energy Corp. and Devon Energy Corp. Husky Energy said October 30 it plans to keep cutting jobs after eliminating 1400 positions.
Employment in Alberta fell by 11,000 in October. Compared to a year ago, the jobless rate in the beleaguered province is up 2.2 percentage points to 6.6%. Unemployment in Saskatchewan has also risen year-over-year by 0.5 percentage points to 5.6%.
British Columbia boasts the strongest job market over the past 12 months, with employment growth of 64,000 or 3.0%.
Construction jobs were down -9,400 last month, bringing the year-over-year figure to -24,000. Manufacturing was up 6,500 taking the year-over-year figure to slightly positive territory. In the service sector, trade and finance job gains were sizable as were gains in health care and especially accommodation and food services.
Mortgage and other borrowing rates in Canada have bottomed even though the Bank of Canada will not follow the Fed's lead in raising overnight rates. Construction activity will continue to slow in 2016 in both the residential and non-residential sectors. Canadian housing, which has been red hot in Toronto and Vancouver, will also slow as housing affordability continues to deteriorate. House price gains in both cities will slow, especially in the condo sector. Supply constraints in the single-family sector have caused prices to surge once again this year–up a whopping 19.0% in Vancouver as of the year ending September and up 11.8% in Toronto over the same period (see chart below).
In contrast, price increases in the condo sector have been more muted in both cities. For the year ending September, condo prices were up 9.0% in Vancouver and only 5.6% in Toronto. For both cities, 2016 will be a more challenging year. I do not expect aggregate price declines in either city, but price gains will be considerably more muted.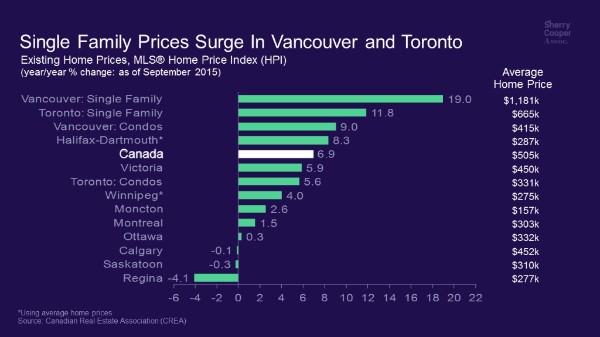 Sign up to Newsletter
Newsletter
Sign up to regular newsletters from Dr Sherry Cooper