Posted on December 6, 2017
No Surprises from the Bank of Canada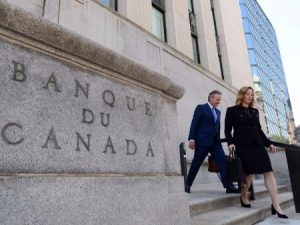 Holds Steady–Will Raise Rates Only Cautiously
The Bank of Canada held overnight interest rates at 1.0% once again, following the two consecutive rate hikes at the July and September meetings. It was widely expected that the Bank would retake a breather this round despite the much stronger than expected November employment report and the recent uptick in inflation. The central bank sees ongoing slack in the labour market, likely referring to continued weakness in average hours worked. As well, the Bank noted that "despite, the rising employment and participation rates, other indicators point to ongoing–albeit diminishing–slack in the labour market." The rise in inflation was deemed to be short-lived, mainly reflecting the increase in gasoline prices. Third-quarter GDP growth, in contrast, was in line with the Bank's expectations at 1.7%. Canadian growth was expected to slow in Q3 while remaining above potential in the second half of this year.
Consumer spending has remained very strong, and business investment and public infrastructure spending are contributing to growth. The Q3 sharp decline in exports is expected to be temporary. "Housing has continued to moderate, as expected."
The Governing Council reiterated caution as the global economy is subject to considerable uncertainty, notably in geopolitical developments and trade policies. The NAFTA negotiations remain a cause for concern. "While higher interest rates will likely be required over time, Governing Council will continue to be cautious, guided by incoming data in assessing the economy's sensitivity to interest rates, the evolution of economic capacity, and the dynamics of both wage growth and inflation."
Bottom Line: The central bank is in no hurry to slow the economy and even though, by their estimate, interest rates are still two full percentage points below what it would consider "neutral." The policy statement cited buoyant global growth, higher oil prices and eased financial conditions, but uncertainty and caution dominated the theme. In contrast to prior reports, any reference to the Canadian dollar was removed. The dollar had strengthened earlier this year but has slumped since September, falling further today. The bond and stock markets rallied on this news.
Sign up to Newsletter
Newsletter
Sign up to regular newsletters from Dr Sherry Cooper