Posted on May 9, 2019
Poloz Says Mortgage Market Should Offer More Options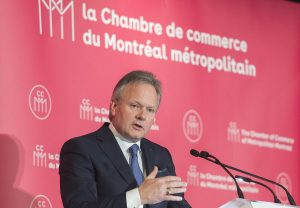 In a speech early this week, Bank of Canada Governor Stephen Poloz said that it is time for some fresh ideas for Canada's mortgage market. He suggested that changes could include encouraging longer than 5-year duration fixed-rate mortgage loans, the creation of a market for private mortgage-backed securities and the launch of shared-equity mortgages for first-time homebuyers proposed in the March federal budget.
Taking these in turn, only two percent of all fixed-rate loans issued in 2018 had durations longer than five years. For borrowers, this would mean less interest-rate risk if they dealt with fewer renewals; however, this is not the full story.
Firstly, 65% of all 5-year mortgage holders break their mortgage by around month 33. Also, some banks and many mortgage brokers offer fixed-rate loans with durations of 7, 8, or even 10 years. However, the borrower pays dearly for this insurance against rising rates. Since the introduction of mortgage stress tests, many borrowers have trouble qualifying for loans as it is. Most want lower, rather than higher, monthly payments and demand for longer-duration mortgages is so low because they cost a full 100 basis points or more above existing 5-year mortgage loans. Besides, interest rates have been low and even falling over most of the period since 1982. Fear of significant rate spikes has diminished dramatically.
Poloz agrees there is some momentum in Canada towards the creation of a private market for mortgage-backed securities. He said it would provide a more flexible source of long-term funds for mortgages not insured by CMHC. To the extent that enhanced sources of capital would reduce the cost of funding for lenders, it might reduce the rate spread between 5-year and longer-duration mortgages, making them more attractive. But, again, perceived rate risk and the actual less than 5-year duration of most mortgages begs the question of why Poloz is providing an answer to a question no one is asking.
Indeed, data show that Millennials in Canada are buying homes in Canada's most expensive cities. Royal Bank economists found that "apart from a short-lived slowdown in 2015 resulting from changes in the temporary foreign worker program, the population aged 20-to-34 in Vancouver, Toronto and Montreal has grown solidly over the last dozen years. …The inflow of millennial immigrants is poised to grow in the coming years. Canada will increase its annual immigration target from 330,000 in 2019 to 350,000 in 2021, and our largest cities will likely get the lion's share of newcomers. In recent years, Vancouver, Toronto and Montreal together welcomed approximately half of all new immigrants aged 20-34."
Finally, the shared-equity mortgage for first-time homebuyers may well prove to be unpopular. A similar program was offered in British Columbia a few years ago, and there were very few takers.
The BC Home Owner Mortgage and Equity Partnership program, introduced in late 2016, was cancelled effective March 31, 2018, due to lack of interest. The province anticipated that the program would provide 42,000 loans over three years. However, as of January 31, 2018, there were fewer than 3,000 loans approved.
The new federal program will provide a larger downpayment for first-time buyers, but it only applies to homes priced just over $500,000 or less, which might help in some parts of the country, but in higher-cost regions homes that cheap are slim pickings.
Canadians don't want to share the equity gains in their homes, as most first-time buyers don't imagine that their home equity could decline. Governor Poloz, himself, forecast in the same speech that he's confident Canada's housing market will return to growth later this year. Population and job growth has been rapid pointing to the resumption of growth in depressed housing markets later this year.
Poloz is a champion of the B-20 guidelines, saying they have done what they were intended to do–remove the froth from bubbly housing markets. During the press conference following his speech, reporters asked if the governor would support a reduction in the roughly 200 basis point spread between the qualifying rate and the contract rate to which he responded in essence– a resounding, no.
Sign up to Newsletter
Newsletter
Sign up to regular newsletters from Dr Sherry Cooper