Posted on November 3, 2017
Wage Growth Accelerates as Canada Posts Another Stellar Jobs Report in October
The expected slowdown in the Canadian labour market did not materialize in October as full-time jobs surged and wage gains accelerated. Total employment increased by 35,300 last month and the unemployment rate rose a tick to 6.3% as the labour force participation rate edged up a bit to 65.7%–well above the level in the U.S. Full-time jobs rose 88,700 while part-time jobs fell by 53,400–evidence of strong improvement in the quality of net-new job creation. Canada has added 201K full-time jobs in just the past two months, the strongest two-month performance on record (see chart below). This report might force the Bank of Canada to reconsider its view that there remains a lot of slack in the Canadian jobs market.
Another sign of stellar growth was the 2.7% year-over-year gain in total hours worked and hourly earnings of permanent employees increased by a whopping 2.4% last month, the strongest annual wage growth since April 2016 (see the second chart below). The jobless rate has trended downward over the past year, falling 0.7 percentage points. While the overall unemployment rate was 6.3% last month, the jobless rate for prime workers–those aged 25- to 54-years old is much lower–posted at 5.1% for women and 5.6% for men. Men have been harder hit in both the U.S. and Canada as much of the restructuring in jobs has been in male-dominated industries such as heavy manufacturing (and construction in the U.S.) and most of the growth has been in female-dominated services such as health care-related services.
Canadian employment rose in several industries, led by "other services" (which include services such as those related to civic and professional organizations, and personal and laundry services) up by 21,000. Construction jobs rose by 18,000 in October but were virtually unchanged on a year-over-year basis. Also strong were information, culture and recreation and agriculture. Employment declined in wholesale and retail trade.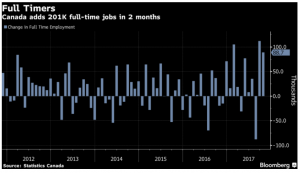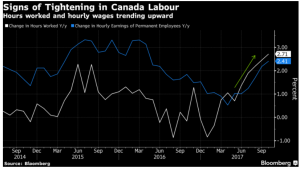 According to StatsCanada, the most significant employment gains were in Quebec, followed by Alberta, Manitoba, Newfoundland and Labrador, and New Brunswick. At the same time, there was a decline in Saskatchewan. Unemployment rates by province are in the table below.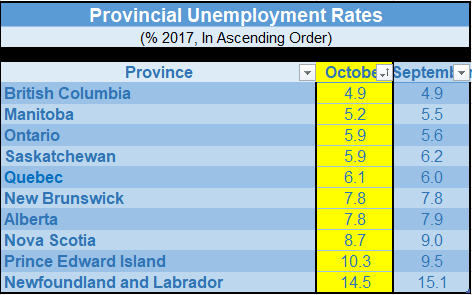 October Payrolls Data in the U.S.
U.S. employers added 261,000 jobs in October, and the unemployment rate fell to 4.1% according to data released this morning by the Labor Department. As well, average hourly earnings rose 2.4% from a year earlier. Last month's job gains mark the 85th straight month of U.S. job growth, the longest such streak on record, as the economy rebounded from the hurricane-induced slowdown in September.
Sign up to Newsletter
Newsletter
Sign up to regular newsletters from Dr Sherry Cooper