Posted on December 10, 2012
BMO's Sherry Cooper to retire Jan. 30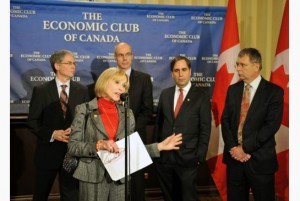 Bank of Montreal chief economist Sherry Cooper is retiring after a 30-year career at BMO Financial Group.
Cooper, an executive vice-president, plans to step down effective Jan. 30, the bank announced Monday.
"Sherry has built a reputation throughout North America for her straightforward, engaging style," president and CEO Bill Downe said.
"She brings clarity to the complexity of global economics and finance — insights that have been invaluable to BMO and its clients, providing consistently accurate forecasts and timely analysis."
Sign up to Newsletter
Newsletter
Sign up to regular newsletters from Dr Sherry Cooper